Shonan International Marathon
Azbil to Participate Again as a Gold Sponsor in 2019
Azbil Corporation will support the 14th Shonan International Marathon, which will be held on December 1, 2019, as a Gold Sponsor. Starting with the first running of the race, Azbil has sponsored the event 14 times in a row.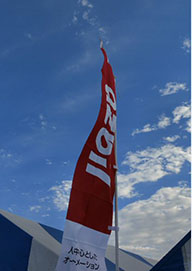 The Shonan International Marathon first took place in March 2007 as Kanagawa Prefecture's first marathon, and about 25,000 runners participated in 2018. Two hundred forty runners and seventy three volunteers from the azbil Group joined the 2018 race. Both veterans and first-timers enjoyed running the ocean-view course.
Azbil aims for better employee health through participation in the Shonan International Marathon. In addition, by means of environmental conservation activities and analysis of the event's environmental impact, Azbil continuously works toward achievement of sustainable development goals (SDGs) set by the United Nations.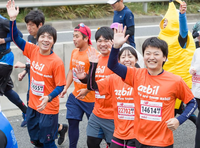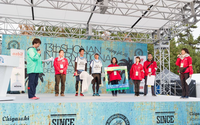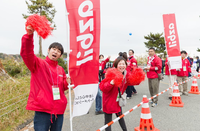 Azbil Works to Make the Race Eco-friendly
At the 2nd Shonan International Marathon in 2008, sponsors and organizations with an interest in the environment launched an "Eco-Friendship" project to foster environmental friendliness in all the people involved in the race. Azbil continues to play a leading role in this project by collecting trash at the race site for resource recovery and by hosting various workshops aimed at raising environmental awareness.
Azbil runs an eco-friendly café at the race site for the purpose of raising visitors' environmental awareness. For those who make an eco-friendly declaration, the café offers fair trade coffee from Mexico, pork miso soup with local ingredients, and local mikan mandarin oranges.e juice.
Also, as a part of the "Eco-Friendship" project, in 2018 eight employees participated in an Eco-Runner/Eco-Sweeper project to increase runners' environmental awareness. The eight runners collected trash on the course while encouraging runners to properly dispose of cups from the water stations.
Azbil is also responsible for analyzing the environmental impact of the Shonan International Marathon, and it helps in various ways to make the race environmentally friendly. For example, Azbil provides carbon offsets by donating its carbon credits to offset the race's CO2 emissions.